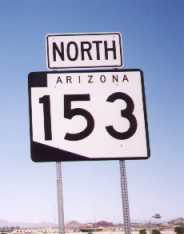 Current route: University Drive to Washington St. in Phoenix
Proposed route: JCT I-10 at 40th St. to Washington St.
---
The Sky Harbor Expressway closely parallels the Hohokam Expressway for its entire route, nearly touching it where they cross the Salt River. It's officially a "multimodal transportation demonstration project" (you drive to the airport, then fly on a plane), usually a term for pork barrel highways.
With AZ 143 right there, it seems rather redundant.
AZ 153 EXIT LIST
Sky Harbor Expressway
EXIT
NORTHBOUND EXITS


Read down

SOUTHBOUND EXITS


Read up

0
SPEED LIMIT 55
1
University Dr
ALL TRAFFIC MUST EXIT
2
Sky Harbor Intl Airport
2A
Sky Harbor Intl Airport
2B
Air Lane
Washington St
44th St
EXPRESSWAY ENDS
3
SPEED LIMIT 45
SPEED LIMIT 55
Return to Arizona State Routes
Return to Arizona Roads
Last updated 03/07/1999