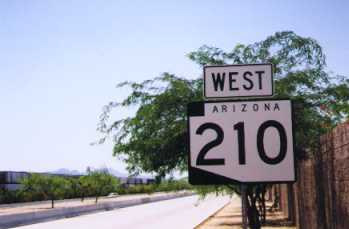 Current route: Broadway Blvd. to Golf Links Dr. in Tucson, along the Union Pacific rail line
Proposed route: I-10 near St. Mary's Rd. to Golf Links
---
The Aviation Highway is an urban highway in Tucson, the first since I-10 was built in the 50s and early 60s. The section from Golf Links to Kino Parkway is 4 lane limited access (grade intersections at major streets with traffic lights), while the Kino to Broadway section is 6 lane controlled access (exit and entrance ramps).
Paralleling the railway was a cost saver in several ways. The number of cross streets is minimized by the railroad, and many of the roads that do cross already had overpasses over the railway, which are now shared by AZ 210.
Unlike AZ 143 and AZ 153 in Phoenix, the number makes sense in that it could become a loop road for I-10.
AZ 210 EXIT LIST
Barraza Aviation Highway
EXIT
EASTBOUND EXITS


Read down

WESTBOUND EXITS


Read up

2
Broadway Blvd
END HIGHWAY
3
Kino Parkway
Kino Parkway
*
22nd St
22nd St
*
Country Club
Country Club
*
34th Street
34th Street
*
Wrigley Blvd
To Palo Verde Rd
Wrigley Blvd
To Palo Verde Rd
[5]
Alvernon Way
Golf Links Dr
END HIGHWAY
* indicates intersection
Return to Arizona State Routes
Return to Arizona Roads
Last updated 03/25/2000