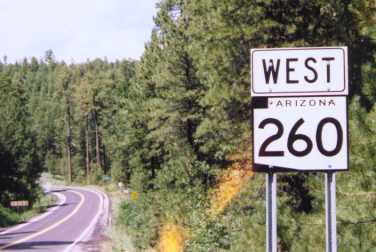 Current route: JCT AZ 89 at Cottonwood to JCT US 180/191 at Eager
Historical route: Payson to Eager
---
In the 1980s AZ 260 was extended west from Payson along the General Crook Trail to Camp Verde, then took over old AZ 279 to Cottonwood. The General Crook Trail was an unnumbered county road.
AZ 260 did not take over the route of US 260; it's a completely different alignment.
AZ 260 was formerly AZ 160.
Return to Arizona State Routes
Return to Arizona Roads
Last updated 8/16/1998