' ?>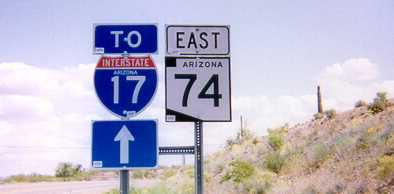 Current route: JCT I-17 north of Phoenix to JCT US 60 south of Wickenburg
Length: 31 miles
Since: 1974
Historical route: California border at Ehrenberg to JCT US 89 at Wickenburg (now US 60)
Existed: 1927-1932
---
This road serves the Lake Pleasant recreation area.
Prior to US 60 being extended into Arizona in 1932, the road from Ehrenberg to Wickenburg was AZ 74.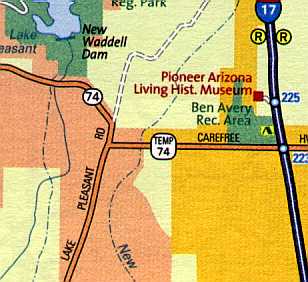 AZ 74 currently follows the Carefree Highway from I-17 to Lake Pleasant Road (also known as 99th Ave). It then jogs north along Lake Pleasant Road, before turning west again. For many years the Carefree Highway segment was signed as TEMP, and there was a stop sign and left turn where 99th met the western leg. The 1998 National Geographic atlas (pictured above) still shows the TEMP, but the TEMP signs are gone.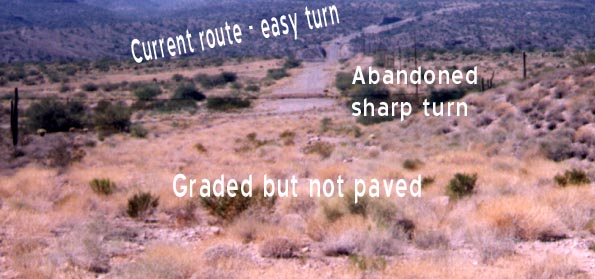 Here's what the sharp turn looks like today (facing west). It's been rounded out so a stop is no longer needed. Part of the old roadbed is still used as an access road to a power substation. The area to the east (in the foreground) has been graded for years (note the cut in the hill on the right) but was never built. There is an access road to the new Lake Pleasant marina cutting across it now.
The gravel road shown going off to the northeast is New River Road. It's hard to tell from the short graded section, but it looks like AZ 74 was intended to go due east to I-17, not follow New River Road.
Return to Arizona State Routes
Return to Arizona Roads
Last updated 2/26/2003