Built from about 1962 to 1968, the Maricopa Freeway is unfortunately a prime example of the ugly design that was so popular in the 1960s.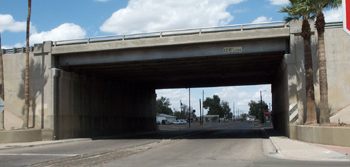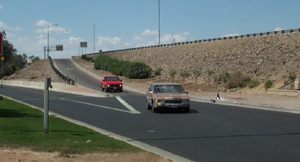 The Black Canyon Freeway had all of its crossings below grade, but the Maricopa was built as a continuous elevated structure (on earth and rock fill) from the south end of the Black Canyon to the Salt River. South of the river, all of the cross streets are elevated.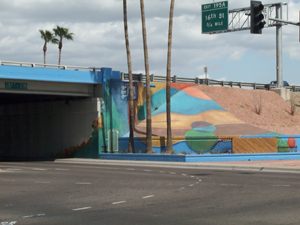 An art project in 2001 cleaned up and painted most of the bridges.
The Maricopa is partly I-17 and partly I-10. This is a reflection of the original freeway plan. I-10 would have entered town from the west south of Buckeye Rd. (old US 80), and met up with I-17 at the point where I-17 turns east. The north-south freeway would be the Black Canyon Freeway (strictly I-17) and the east-west freeway would have been the Maricopa Freeway (strictly I-10).
The Maricopa was built with this in mind. The split-elevation curve (Durango Bend) originally had two bridges in the elevated section. This would have allowed ramps to exit from the left of the ground-level side to go west on I-10.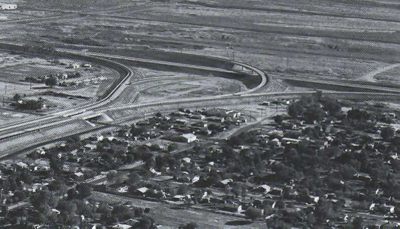 Another directional interchange was built near the airport to serve an in-town loop, either I-410 or I-510. (Photo: City of Phoenix)
In 1969 the I-10 designation was moved to the Papago freeway, and I-17 was extended east along the Maricopa to what had been the I-510 interchange.
After I-10 was moved to the Papago Freeway, the section of the Maricopa west of I-17's Durango Bend was briefly dubbed AZ 280 before being dropped from the system.
In 1972 the Durango Bend was widened from two lanes to three, and the bridges were removed. The airport stub interchange (which only went as far as Buckeye Rd.) was removed in the late 1980s when the Papago Freeway inner loop was built. Although the ramps went the right way, they were only one lane wide, and would have meant you'd take an exit to stay on I-10 if you were going west.
One last bit of trivia. The Maricopa Freeway name officially ended at the Broadway Curve. Southeast of that, I-10 became the Pima Freeway. That name was either dropped, or just forgotten. The Pima Freeway name is now applied to AZ 101 in Scottsdale.
Return to Urban Freeways
Return to Arizona Roads
Last updated 4/7/2002