Wrong Way!!
A lot of unusual, funny, or just plain wrong signs.
10/19/2003-present
6/11/2001-10/18/2003
6/11/2000-6/10/2001
11/01/1999-6/10/2000
04/18/1999-10/31/1999
10/15/1998-04/17/1999
7/20/1998-10/14/1998
6/9/1998-7/19/1998
---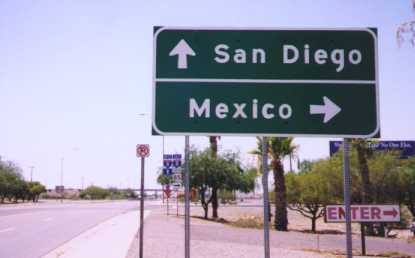 What's wrong with this one? Okay, San Diego is straight ahead (true, since this picture was taken facing west). So that means Mexico is to the... uh oh. Actually, AZ 85 South makes a 180° loop to the north to go under Business I-8 and the railroad. (Gila Bend)
---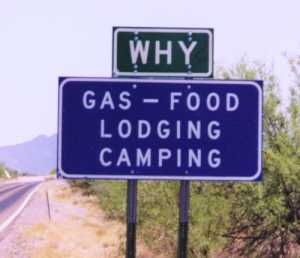 Good question. Why, AZ was named after the Y intersection of AZ 85 and AZ 86. Ironically, the intersection has been reworked into a T intersection. It should be named Why Not. (Why)
---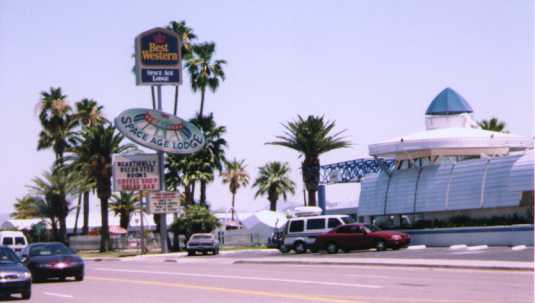 Houston, we have a motel. Try the Spaceburger in the cafe. (Gila Bend)
---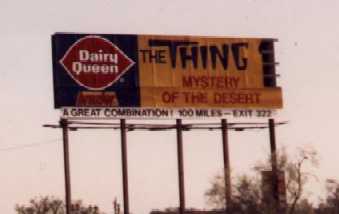 What is it? I'll never tell. ( I-10 at Picacho Peak)
---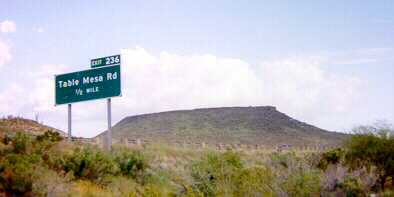 Mesa is Spanish for table, so this is Table Table Road. (I-17)
---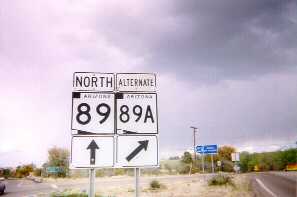 Another duplicate repeated redundancy. This was one of the few places that US 89A was signed as ALTERNATE US 89, but ADOT just replaced all the shields with AZ 89A shields. (North of Prescott)
---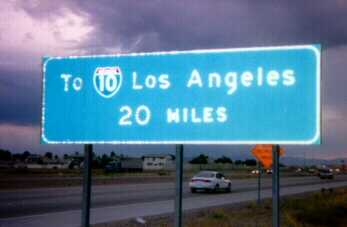 LA is closer to Phoenix than you thought. (AZ 101 west ofI-17)
---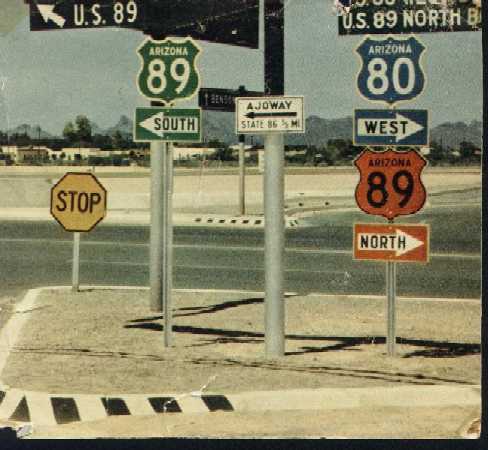 Look at all the colors, man! Arizona experimented with colored shields in the early 1950s. The color indicates the direction. This intersection is now under I-10. Photo courtesy of James H. Lindsay. (Tucson)
---


ADOT has switched from one-piece mile markers to segmented units. They may be easier to assemble in the field from a big box 'o digits, but they lack in appearance and durability. The one on the right is actually newer. (US 60 in Tempe)
---
Something Missing Dept.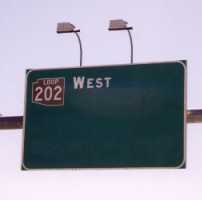 Successive peel-offs haven't left much on this 202 sign. Going top to bottom, there was TO I-10, Los Angeles, and two lane arrows. ADOT removed the I-10and Los Angeles designations before the highway was even open. The lane arrows were removed when the roadway was restriped to provide three through lanes over AZ 143. (Phoenix)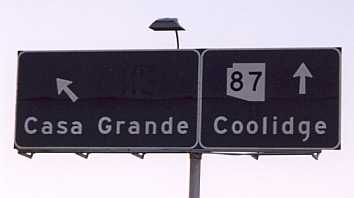 AZ 84 is MIA here. (Eloy)
---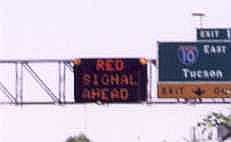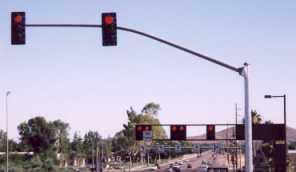 No kidding -- 8 of them in fact (one isn't visible here). The signal at the south end of AZ 143 is hidden behind the I-10 overpass, hence the warning sign, rumble strips, and extra signal heads. One of the signals has a strobe tube too.
---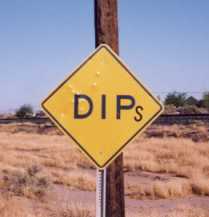 A dippy Pinal County sign. (Maricopa-Gila Bend Highway)
---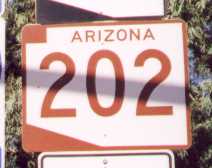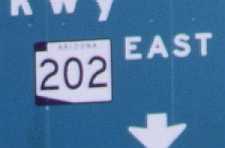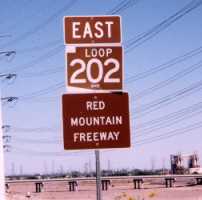 Will the real AZ 202 marker please stand up? (Phoenix -- 16th St. & Jefferson, Indian School & AZ 51, AZ 202 over Mill Ave.)
---
The following are actually from Tennessee, but what the heck.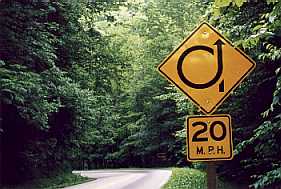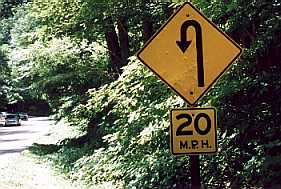 When a hairpin just isn't enough. (US 441 in Great Smoky Mountains National Park, TN)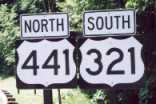 Someone's confused here, and I think it's me. (Sevierville, TN, facing west; Pigeon Forge, TN, facing north)
---
10/19/2003-present
6/11/2001-10/18/2003
6/11/2000-6/10/2001
11/01/1999-6/10/2000
04/18/1999-10/31/1999
10/15/1998-04/17/1999
7/20/1998-10/14/1998
6/9/1998-7/19/1998
Last updated 7/19/1998