' ?>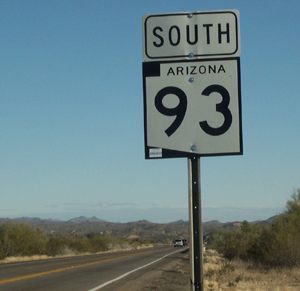 Current route: Defunct
Historical route: Nogales to Kingman
Existed: 1946 to 1984 or 85
---
I didn't have a photo of an AZ 93 marker, but I was fortunate to come across this goof near Wickenburg before ADOT fixed it. It's actually US 93 here, though at one time this really was AZ 93 (as well as US 89).
AZ 93 continued US 93 south from its termination in Kingman. In 1946, it was established from Kingman to US 89 near Wickenburg, then in 1954 it was extended south to Nogales.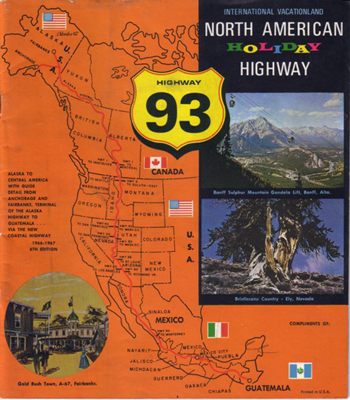 I belive the idea was to create a border-to-border route. This brochure was published in 1966 by the "International North American Holiday Highway Association".
From Wickenburg, AZ 93 followed US 60 to AZ 87, then AZ 87 to south of Chandler. Here it split off on its own before joining AZ 387 near Casa Grande. It took AZ 387 to AZ 84, then AZ 84 to US 89 in Tucson. From there it followed US 89 south to Nogales.
Of the non-multiplexed segment, the part from AZ 87 to I-10 is now AZ 587. The old road continues a bit south of I-10 as a Gila Indian route, but dead ends at a washout. The rest of the road to Casa Grande is abandoned.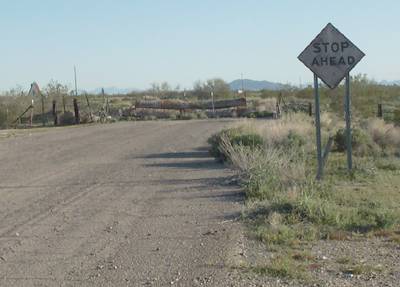 You'd better stop. This is the abandoned road just before the point it met current day AZ 387.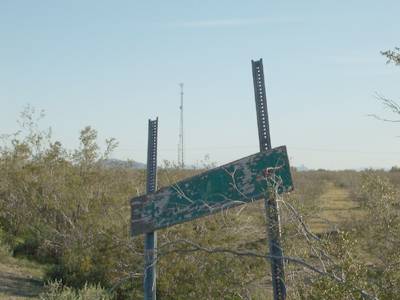 The route markers are gone, but everything else seems to be just as it was when it was abandoned in 1972. The sign was a JUNCTION AZ 387 ½ MILE sign.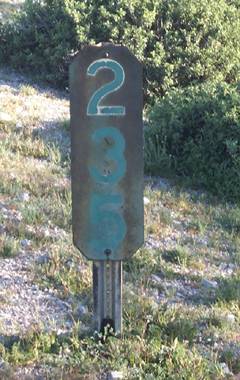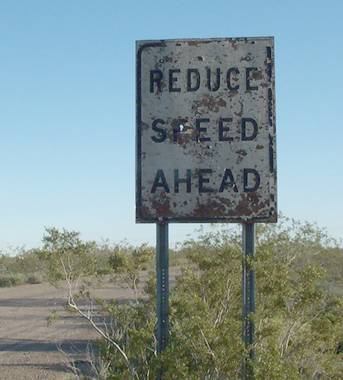 An old style milepost, and a REDUCE SPEED AHEAD sign approaching the junction.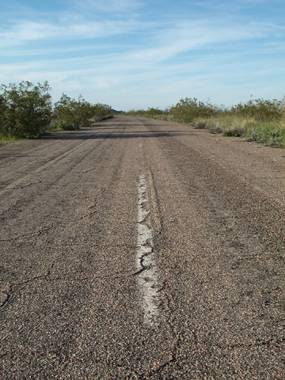 You can still see the dashed white center line, which was replaced in the early 1970s by the current dashed yellow line.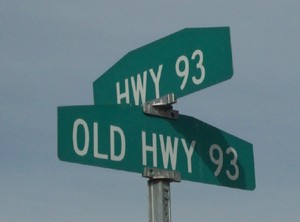 Another abandoned section is near Kingman. Prior to 1966, AZ 93 took a route slightly south of the current I-40. Heading south, it branched off Andy Devine Ave. (old US 66 at Louise Ave. This headed to the current I-40 alignment at DW Ranch Rd. (exit 59). It then turned south again, joining the current US 93 aligment 4.9 miles south of I-40.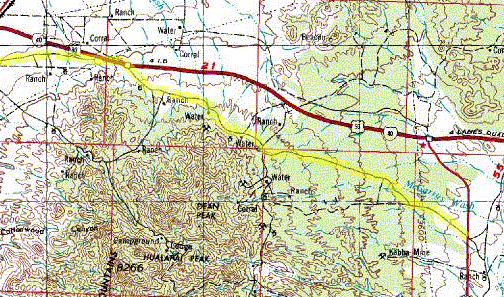 The old alignment is highlighted in yellow. 1966-1968, an isolated section of I-40 was built. AZ 93 became US 93 and was relocated to it. This wasn't actually used for I-40 traffic until the section to the west to Seligman was built in 1978.
When heading south from I-40, the 1966 construction is wide with shoulders.Once you enter the 1948 alignment, the shoulders disappear and the road gets narrower.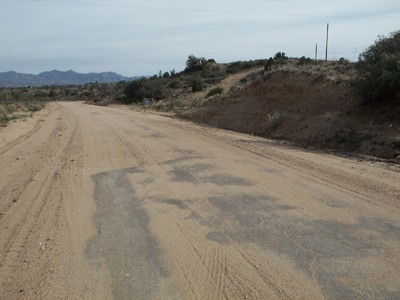 Here's a tour of the old road, going west. The eastmost section of the old road is maintained as a Mohave County road and is signed "Old Hwy 93". Although it was paved, it's now a dirt road with bits of pavement. It's maintined as far west as McCarrol Rd. This dirt road goes due north to the frontage road at I-40. This connects to I-40 at Blake Ranch Rd. (exit 66).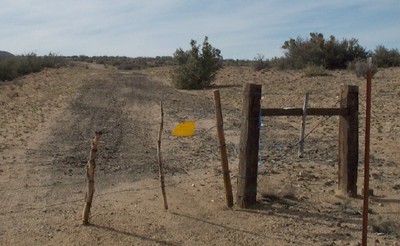 West of McCarrol Rd. the road is abandoned (looking west).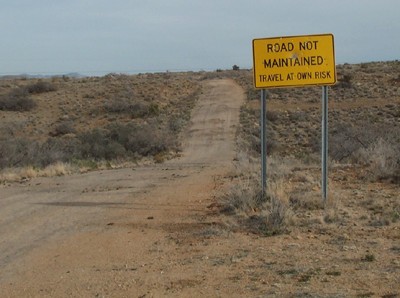 This is the west end of the abandoned section (looking east) at DW Ranch Rd.
There a little stub of old AZ 93 on the north side of I-40 at exit 59. It crossed over to the south side about ½ mile west. This is now severed by I-40. The remainder of the road continues into Kingman and becomes Louise Ave.
Return to Arizona State Routes
Return to Arizona Roads
Last updated 2/26/2003